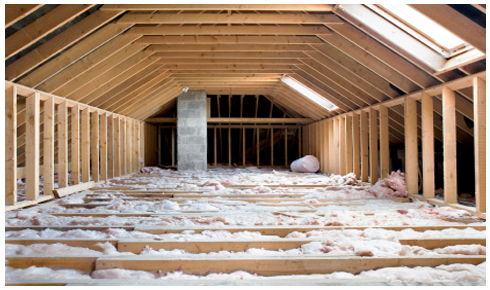 Attic Insulation
You might be using approximately 25% of your heat through your roof. SEAI Grants are available.
Attic Insulation Overview
It's never been more important to think about insulating your attic. Without proper insulation a lot of the valuable, expensive fuel you use to heat your home will be lost through the attic. The recommended depth for attic insulation is at least 8 inches however there are other materials which require different depths.  In an uninsulated home 1/4 of your heat is lost through the roof. By getting Attic Insulation installed, you can reduce your heating bills dramatically.

  Depending on the needs of the customer, we use different insulation systems. The products Southern Green Homes uses for attic insulation are listed below:
KORE Lock Attic Insulation Flooring System
KORE Lock Attic Insulation Flooring System is specially designed to allow householders to insulate the floor of their attic and still use the space for storage. By installing KORE Lock Attic Insulation, the average homeowner will reduce their yearly bills by as much as 10-20%. The U-value will reduce significantly as the depth of insulation installed is not restricted in the attic space. Once laid the homeowner can lay chip board over the insulation and still use the attic or loft as before.
Metac Rafter Roll / Batts
Metac Rafter Roll / Batts are lightweight insulating roll/batts manufactured from glasswool. This product has been specifically developed for use in ceilings that follow the pitch of the roof and enclose a habitable space, thus servicing the market of the attic conversions and new dormer bungalow construction. Metac can also be used as a space saving roll to achieve better u-values in applications such as attic floors and timber-framed walls. Made from inherently non-combustible materials Moy Isover Metac Rafter Rolls are completely fire safe, achieving a Euroclass A1 fire rating when classified in accordance with EN 13501-1.
Back to Attic Insulation index
Why Insulate your Attic or Loft?
Loft insulation is an effective way to save energy and money at home. A well insulated house keeps warmth exactly where you need it – indoors. 

So, insulating your attic – or topping up any insulation you have already – will help to heat your home more efficiently. Using less energy reduces carbon dioxide emissions (CO2): one of the biggest causes of climate change. You will save money on your home heating bills also.

How does Attic Insulation work?
Heat will always flow from a warm area to a cold one. The colder it is outside, the faster heat from your home will escape into the surrounding air.

Increasing the Insulation in your attic or loft makes it much more difficult for heat to pass up through your roof by providing a layer of material which has lots of air pockets in it. These pockets trap heat, cutting what is known as the U value of the attic.

The U value measures how quickly it loses heat so the lower the U value, the less energy you need to keep your home warm. Attic insulation cuts your loft's U value from around 2.3 (for an un-insulated loft) to 0.16 W/m2K, a reduction of around 95%. You may on occasions also see references to an R-value. An R value is a measure of thermal resistance and is the inverse of a U value so the higher the R value the better.
What could you save?
At best guess estimate would say that if you had no attic insulation prior to our arrival and we installed the recommended covering of at least 8 inches, that you could dramically reduce your heat loss through the attic and could save perhaps 20-25% on heating bills with a payback of 2-3 years on the installation price.

These are estimated figures based on insulating a gas-heated, semi-detached home with three bedrooms. 

Attic insulation is effective for at least 40 years, and it will pay for itself over and over again in that time. The better insulated your home, the less energy you need to keep it warm – the more money you'll save in the long run.

By saving energy, your household will produce less CO2. So, adding or topping up your loft insulation is a great way to do your bit – and reduce your impact on the environment. 

There are Attic Insulation Grants available through the SEI to help pay for your Insulation.
Are there grants available?
Yes.  SEAI grants for attic insulation are available, click here to apply.  Grants for attic insulation are €300 and are estimated to save you €350 on your heating bills annually.
Could Attic Insulation work for my home?
Generally, your home should be suitable if it has an accessible Attic or Loft with little or no damp or condensation problems.  If you have problems with dampness, additional work may be required before your attic is suitable for insulation.
Advantages of Batts/Rolls over Blown in Attic Insulation
Batt attic insulation is more expensive, but it has its advantages. You will also hear people call it rolled-in attic insulation or blankets. While the most popular type of batt insulation is fiberglass, there are also additional options available, like cotton fiber. Cotton does not all the nasty properties of fiberglass and it provides with a health advantage. 

Batts are installed directly on the attic floor and they are placed between the ceiling joints of your house. Batts are rectangular pieces 4-8 feet in size and are manually placed one by one, until the floor of your attic gets covered completely. Maybe the most important advantage that rolled-in insulation has over blown-in insulation is the fact that it is easy to remove should you decide in the future that additional work must be done in your attic. 

The u-value is slightly better in the case of batts. While batts will provide you with a stable, known u-value, the blown-in insulation's u-value can vary due to the variation in thickness.
Reflective Attic insulation (Reflective Foil Insulation and foil bubble insulation) is widely seen in aluminum foil material which has been specially designed to resist & block heat in open spaces. Reflective foil insulation is popularly used to keep the house and other building cool in a sunny day or in hot climate. 

While on the other hand, Bulk insulation is a sort of insulation which is more commonly used in Ireland and acts as a blanket to preserve warm climate in winter and cool in sunny season. Rock Wool, Natural Wool, Polyester and Loose-fill insulation are some of the bulk insulations which are being used. 

Bulk insulation like cellulose insulation have the possibility of absorbing moisture in humid climate, while reflective foil insulation and , foil bubble insulation offers no such worries as being made from metallic foil. Also, Bulk insulations are heavier than Reflective Attic insulation and foil bubble insulation which may cause ceilings to wilt, which is also one of the major advantage of reflective foil insulation over different types of bulk insulations. 

Reflective Attic insulation or Reflective Foil Insulation is moreover installed in quite cost-effective way than using bulk insulation such as spray-foam. This kind of bulk insulation needs special efforts in installation as it needs special instruments along with the expert hands. Also, this type of bulk insulation is not environment friendly and it releases greenhouse gases during its applying, which is not at all the case with reflective foil insulation. As reflective foil insulation (foil bubble insulation or Reflective Attic insulation) doesn't have such possibility and thus it is environment friendly insulation.
There's possibility lying in bulk insulation that some small gaps and holes left behind even after finalizing the installation, which gives space to R-value to get reduce and thus the level of integrity of perseverance for keeping inside climate firm may get abridge. At other side, foil bubble insulation (Reflective Attic insulation, in common) gives no space to loose R-value and thus it is far more effective in resisting the temperature to change its state. 

Reflective Attic insulation is very easy to install and also last really long with less or no maintenance. Over the period of time, bulk insulation needs maintenance along with the solution to fill the holes and spaces created due to its heavy structure, and thus add more cost. While foil bubble insulation and other Reflective Attic insulation needs no such maintenance even over the period of time and thus reflective foil insulation offers consistent performance as an ideal Reflective Attic insulation.
Adding to above points, one more thing goes into favor of reflective foil insulation and foil bubble insulation, that is, it is approved by Asthma Associations worldwide as a non-toxic insulation material. If we compare bulk insulation with the previous then there's a possibility of inclusion on toxic material in them. Also, some of the insulation materials come under this insulation has fur in its made that may cause asthma and allergy to some of the people. 

The last and the most important point is that foil bubble insulation & reflective foil insulation satisfy all the fire safety guidelines provided by Building Code Requirement for Fire Safety, While bulk insulation doesn't fulfill the fire safely guidelines. It is but obvious as few bulk insulation use special type of wool as insulation along with some inflammable materials which makes it more unsafe to use.